~ Noah's 'Ark' Anchors ~
The 'ARK Crown' stock anchor
A 'world' community information site with free Ark Anchor 'plans' download.
Designers of 'safe & secure' stainless steel 'Ark Crown' storm anchor systems:
Index of contents
~~~~~~~~
ARK anchors - Noah's Ark - Safe & secure - Stainless steel
Quick setting - Safety first - Super fluke storm anchor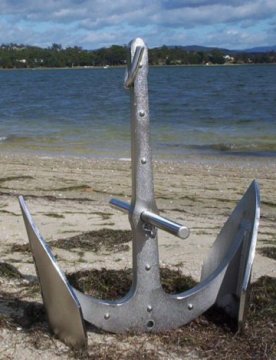 ARK 55 kg - low stock
This web site is not only for the purpose of 'promoting' ARK anchors, but it is also a teaching aid.
Please acquaint yourself with Item 3 - 'Notes on safe anchoring' before you go your way.


Link to: Article - Wind & Sail-power fishery
Link to: Manuscript - Notices to scuba & other divers
Added note for wooden boat builders: Resorcinol resin is the best type of water resistant resin and the easiest to use.
Direct Link: http://www.mz3.com.au/resorcinol
Manufacturer of high quality machines for timber manufacturers: http://www.mz3.com.au
email: info@mz3.com.au
ARK anchors - Noah's Ark - Safe & secure - Stainless steel
Quick setting - Safety first - Super fluke yacht mooring